What is the JTS?
The Southern California Joint Technical Symposium was formed way back in the olden days of the 1980s when two Sections (Orange County and Southern California) of the American Industrial Hygiene Association (AIHA) held a joint meeting. These two small groups included a powerhouse of eminent environmental health and hygiene professionals who were willing to share their expertise with colleagues by providing short technical presentations.
In 2005, the Orange County Chapter of the American Society of Safety Professionals (ASSP) joined the AIHA sections, and brought a new class of professional to the JTS: The Safety Pro.
The event was held in Long Beach area until 2017, when the JTS outgrew local venues and moved to the Carson Community Center about 5 miles north.
The JTS has grown organically and impressively to the Premier EHS Symposium of Southern California. Now three ASSP chapters (Los Angeles, Long Beach, and Orange County) as well as the founding AIHA sections continue to sponsor the JTS each year. With a diverse membership around 1,500 members, each year the sponsoring organizations of the JTS are proud to attract hundreds of prominent practitioners and dozens of sponsoring companies and exhibitors representing the best in current technology and service to attending professionals.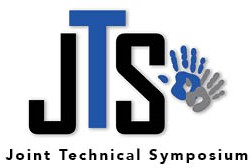 What's with "the hand"?
Many years ago, when a fifth sponsoring organization was added to the JTS, one of the planning committee members quipped "like five fingers on a hand." Another member later informed other committee members that, in some Abrahamic religions, the hand symbolizes "protection." Because environmental health, safety, and hygiene is all about protection, the hand seemed appropriate, and some iteration of the hand has made its way into JTS branding ever since.